Membership overview (e-commerce)
Memberships are created to provide special offers and benefits to loyal customers of e-commerce websites. Membership plans are created separately from products, which gives some flexibility in deciding how the access to special benefits is granted. It's possible to assign multiple products to a single membership plan, over a specified period of time or indefinitely.
Membership items that are supported on the e-commerce platform can be seen in Magento Webadmin if you navigate to Catalog > Products, and open the Add Products dropdown.
These items shouldn't be created in Magento Webadmin - they are synced from Business Central.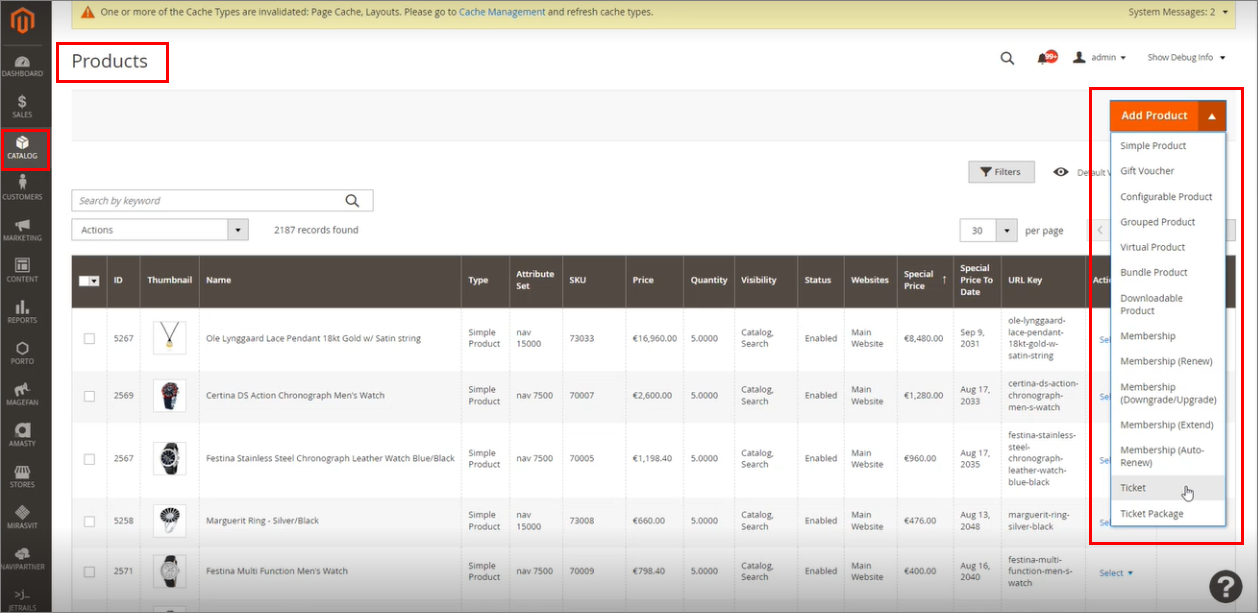 All membership items can be easily filtered by using the Type filter, and choosing Membership.
You can see the specifics of each membership associated with an item in its Membership Setup, Member Card Delivery, Member Card Barcode Generation, and Membership Forms sections.
The following fields are synced from Business Central in the Membership Setup section:
Membership Type Code
Auto-Activate
Max Members
Guardianship
Minimum Member Age
Maximum Member Age
Age Constraint Target
Subscription
Validate Email
The following fields aren't synced from Business Central. They need to be updated in Magento Webadmin if required:
Allow Setting Unlimited Guest Count
Company Membership
Refer to the article for for more information and processing instructions.
Membership options in Business Central
You can view and edit various options concerning memberships in the Membership Card of the desired membership type. For instance, you can view all points that a member has accumulated in the Points panel.